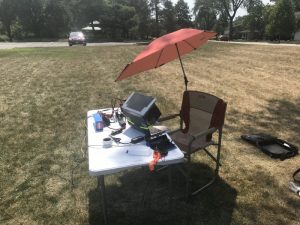 In preparation for a longer upcoming trip in September,  Tim KD9LAI went out into the field to a local park to test some new equipment:
Sotabeams 23′ mast and 3 band linked dipole        Bioenno Solar panel and solar charge controller
To quote Tim describing his solar panel and charger, "WORKED GREAT… level never dropped below 12.5 during transmit, even with IC-7300 at 40w on FT8, and my laptop plugged in.  I ran it that way for the last hour to try to see if I could get it to dip below a usable threshold, but it never did. Of course, had lots of help from the big yellow fire ball in the sky, but that was part of the test."
Here are some more photos of Tim's setup.
If you have any radio related articles that you would like seen in the club newsletter, please contact me using the following link: