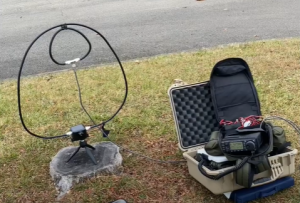 Early in December 2020, I went out to Busse Woods Forest Preserve to test out a new antenna; the AL-705 Magnetic Loop from Alpha Antenna.
It is a low power (20W) very portable magnetic loop covering 40m to 10m, designed and built by Alpha Antenna and marketed by ICOM, as part of their IC-705 portable field radio package. It can of course be used with any radio, as long as power is kept below the 20W maximum.
On my way to the Forest Preserve, I was chatting on the SARC 2m repeater (K9IIK), and a couple of friendly folk offered to help with my initial tests.
I had never used a magnetic loop antenna before, so it was a very new experience for me.  Overall it worked as expected.  Tuning it can be a little fiddly, but I understand that is the nature of this type of antenna.  The bandwidth is very tight, so any frequency change more than a few kilohertz on the radio requires a retune of the antenna.
I see it being best suited for things like Parks On The Air activations, Field Days, or any other situation where you pick a frequency and call CQ, rather than chasing around the band for contacts.
Here is a small video showing how things went.
The following weekend, I decided to give it another try.  At the same park, but at a more comfortable spot with a picnic table, I set things up again and yes, here is another video showing how it went.
73, Mike K9KMV