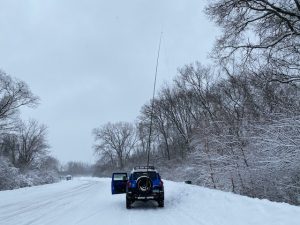 Winter Field Day 2021 – K9KMV              
There was no doubt that this year's Winter Field Day would have a winter feel to it.  Winter Field Day occurs on the last full weekend of January each year, starting at 1900 UTC and finishing 24 hours later at 1900 UTC on Sunday.
My plan was to operate in one location on Saturday afternoon, and then at a different location on Sunday morning.  I would be operating as 1 Oscar (1-O), which references 1 Operator, Outdoors.  I also wanted to activate a POTA (Parks on the Air) park on one of the days.
Day 1 – Moraine Hills State Park, IL (POTA K-1012)
I set off with some light snow and temps hovering around 30 degrees.  The drive is a little under an hour, and I arrived on time for a 2pm CT start.  Due to the recent snowfall, some of the parking areas were closed, and so the ones that remained open were busier than on my previous visits to the park.  I found a spot that, although not ideal, allowed me to setup my radio gear from the car.  No sitting on a picnic table this time.
I erected my 31 foot telescopic mast on the hitch mount of my vehicle, ran a 20m EFHW in a steep sloper configuration, and set the Yaesu FT-891 radio in the car.  The band was very busy, and I struggled to find an open frequency where I could call CQ from.  I eventually was able to do so and made a little over 30 contacts, before packing up and heading home.
By the way, I forgot my gloves which made the process of packing up harder than I'd have liked.
With 30+ contacts, I also successfully activated the park for Parks On The Air (10 contacts are required).
 Day 2 – Beck Lake Park FPDCC, Des Plaines
Staying much closer to home, but with a heavy snowfall overnight, I headed out with the same equipment.  Similar to Day 1, because of the heavy snowfall, several of my local Forest Preserve locations were closed.  The snow plows hadn't got to them yet.
I eventually found a suitable location at Beck Lake, which also happens to be where I take our 2 dogs most weekends.  (Those who monitor the SARC 145.230 repeater will know I go there a lot!).
By now, with snow still falling and my time running out, I setup again with almost the same configuration as Day 1.  I had an issue with the telescopic mast, the top 2 sections had got stuck and now I was having problems getting it to the full height.
My goal for the morning was to make just a few more contacts and then head home.  No need for 10 contacts this time (not a POTA activation), so I decided just to tune through the band and reply to whoever was calling CQ.
I made 5 more contacts and decided to call it a day.  I used this as an exercise to practice setting up in less than ideal weather conditions.
Summary
I admit that I found the weekend quite challenging.  I have done a lot of portable deployments before, and learnt many lessons, but somehow with the weather as it was, and a low-level equipment failure to boot, things could have gone better.  I'll certainly keep a spare pair of gloves in my pack from now on!
Here is a YouTube video that shows how things went in far more detail, and a couple of images of the weekend.
73, Mike K9KMV