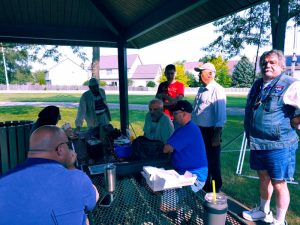 Last Saturday, September 11th 2021, saw the final SARC In The Park for this year.
Rob N9MVO was operating his Elecraft KX3 and making some Parks On The Air contacts.
Also present were:
Robert W9RKK
Bob N9JAX
Barry K9FMB
Kevin K9MKD
Cliff K9QD
Ron WB9PTA
Tim KC9NMW
Sid KD9OLJ
Al KD9FIA
Thank you to Robert W9RKK for submitting this article.