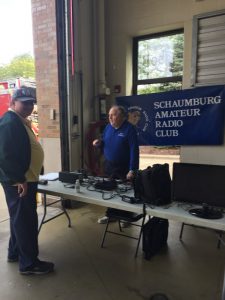 On October 2nd 2021, the Schaumburg Amateur Radio Club participated in the Schaumburg Public Safety Open House.  Many members of SARC and the Schaumburg Emergency Radio Team attended to show their support.
Special thanks go to Dennis (KD9IK), Barry (K9FMB), Rob (N9MVO), and Cliff (K9QD) for their efforts to setup and man the booth.
Thanks also to Dirk (W0RI), Jim (KC9UFB) and Charlene (K9CMZ) supporting the effort and helping to share ham radio with the citizens of Schaumburg.