By: Mike Griffiths, KD9KMV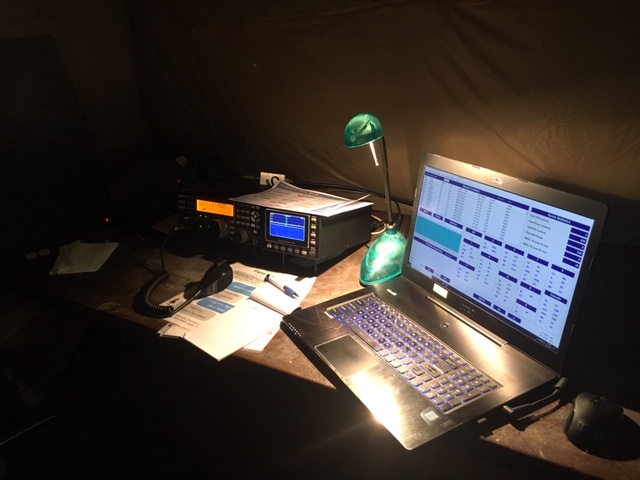 The ARRL Field Day takes place every year on the fourth weekend of June, for a 24 hour period.  During this event ham radio operators across North America demonstrate their ability to setup portable radio deployments in the field.  Combining  emergency preparedness skills, technical knowledge and teamwork, the Schaumburg Amateur Radio Club takes part in this annual event.
The weekend began late Friday afternoon for a small dedicated team, who aided in the initial setup of a rope pulley system  at the top of the 120 foot tower, located at the club's  main VHF repeater site.
Early Saturday morning, the rest of the club's volunteers arrived to set up tents, erect antennas, and get everything ready for the official 1pm start time.
The club operated under the 2A designation, with a CW station (tent captain Bob W9DXR), an SSB Phone station (tent captain Robert W9RKK), and a GOTA (Get On The Air) station (tent captain Bob W9GEW) all running on portable generator power.
In the true spirit of Field Day, the CW team overcame some initial antenna and logging software issues, and despite also being cut off from power prematurely near the end, were still able to surpass their previous years score.  Extra points were also achieved thanks to their use of battery/solar power.
With dinner and breakfast provided, nobody went hungry and operators were able to continue throughout the 24 hour period.
Thank you to everyone that volunteered their time, their equipment, and their knowledge, to make this event happen.
Here are some photos taken by several members over the course of the weekend:
Setting up
The CW Tent
The SSB Tent
The GOTA Tent
The Classroom!
Thanks again to everyone involved.